Trojka (meaning the third) is the third TV channel of RTVS, the public broadcaster of Slovakia. Trojka was launched in 2008 by Slovenská televízia (STV) as a sports channel, and closed down in 2011 as STV merged with its radio counterpart SRo to form RTVS. However, it was revived on 22 December 2019 as a channel showing archived content from RTVS and its predecessors STV and ČST for an older audience.
2008–2011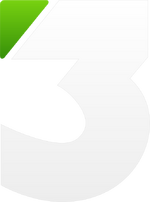 2019–present
Trojka, like the other two RTVS channels, is available in both standard and high definition.
Community content is available under
CC-BY-SA
unless otherwise noted.