USAir
1979–1989
| | |
| --- | --- |
| | SVG NEEDED |
| | |
| --- | --- |
| Launched:  | October 28, 1979 |
On October 28, 1979, Allegheny Airlines' (established in 1939) route network was expanded greatly and changed its name to USAir to reflect their new, nationwide focus. The new name, logo and livery was created by Landor Associates.
1989–1997

| | |
| --- | --- |
| | SVG NEEDED |
This logo was introduced on May 24, 1989, along with a new livery. The new look was introduced following mergers Pacific Southwest Airlines in 1988 and Piedmont Airlines in August 1989. The new identity was created by SBG Partners in San Francisco.
US Airways
1997–2015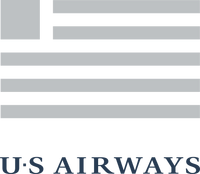 Designer: 

Luxon Carrá




Deskey Associates

| | |
| --- | --- |
| Launched:  | February 27, 1997 |
USAir was rebranded as US Airways on February 27, 1997. The name change happened partly because the company wanted to present itself as a major airline. Most major airlines in the US have a name with "airlines" or "airways" in it, while names with "air" are usually used by smaller regional airlines. The design was made by Luxon Carrá and Deskey Associates.
US Airways merged with American Airlines on December 9, 2013, and moved to Oneworld on March 31, 2014. On July 13, 2015, American announced that it planned to discontinue the US Airways brand name on October 17. On that date, US Airways was scheduled to make the final flight for the airline as a red-eye from San Francisco to Philadelphia, taking off as US Airways Flight 1939, and landing as American Airlines Flight 1939.
Current members
---
---
---