PBS Kids Channel
1999-2005
PBS Kids Channel was launched on September 6, 1999 and closed on September 26, 2005. However, a new PBS Kids Channel will might come out in a few months.[1]
PBS Kids Sprout
2005-2013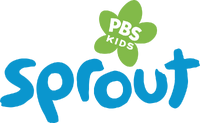 PBS Kids Sprout was launched on September 26, 2005 by Sesame Workshop, PBS, Comcast, and HIT Entertainment as a preschooler oriented network. On January 28, 2011, Comcast purchased the media conglomerate NBCUniversal, merging most of its media operations with it, including PBS Kids Sprout. Later, in October 2011, Apax Partners announced a sale of HIT Entertainment to Mattel (it ended up in Fisher-Price's control); the acquisition was completed on February 1, 2012, and did not include HIT's share in PBS Kids Sprout.
Sprout
2009-2013 (variant) 2013-present (primary)
This logo was intended to be merely be an alternate version of the main logo without the PBS Kids logotype in the green flower. However, on November 13, 2013, after NBCUniversal bought out PBS, Sesame Workshop, and Apax Partners' shares in PBS Kids Sprout, the "PBS Kids" trademark was removed from the name and the channel was rebranded as "Sprout".
2015-present (variant)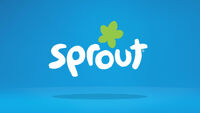 As of May 29, 2015, the word "Sprout" on the logo also appears in white.
Other
Predecessors:
---
---
---
---
---
---
---

Cite error: <ref> tags exist, but no <references/> tag was found