1992–2012
1992–2002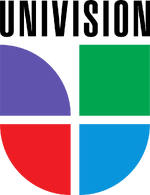 Univision Communications was founded in 1992.
2002–2012
The logo was slightly modified in 2002, making the wordmark different and the symbol corrected.
2013–present
2013–2019

On October 17, 2012, Univision Communications unveiled a new logo, Like Univision, it was aired on January 1, 2013.
2019–present

On January 29, 2019, Univision Communications modified its logo with a flat color.
On February 25, 2020, investment firms ForgeLight and Searchlight Capital agreed to acquire the 64% controlling stake in the company currently held by its investment group ownership, while minority owner Televisa will continue to hold its 36% stake. As a result, the company will be led by Davis as CEO, eventually replacing current CEO Vincent Sandusky. The sale was completed on December 29, 2020.