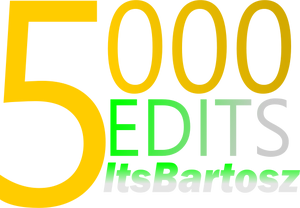 About me
My name is Bartosz/Bartek, as a polish name, but you can call me Bart if you want to. I discovered this wiki back in Late 2019 or Early 2020 and later joined in July. I am the Polish user who helps this wiki by creating any pages that never existed before, editing the pages such as when a new logo was introduced/will come soon, adding old logos that no one added it, reverting the edits that caused as a Vandalism and more!
If you would like to talk with me, then you can! You can talk about the Sockpuppets that are still here, some help if you are new to Logopedia, and so on! Please notice that I'm going to notify you if something goes wrong with editing the pages and so on.
And that's all! Thanks for checking my profile and reading, happy editing!
Edits Milestone:
1,000 edits (August 22, 2020)
---
2,000 edits (December 27, 2020)
---
3,000 edits (March 19, 2021)
---
3,333 edits (April 12, 2021)
---
4,000 edits (May 28, 2021)
---
5,000 edits (July 21, 2021)
Subpages
For my favorite logos, see here.
---
For my history of signature, see here.
Languages that I speak...
Logo History
2021–present

| | |
| --- | --- |
| Typography:  | Franklin Gothic Heavy |
For my 1st anniversary, I wanted to make my custom logo like others. So this is the first logo I added which was unveiled on 2 July.
This logo was first introduced on 5 July as a profile cover, later as a signature on July 6.