2007–2017; 2007–present (online-only)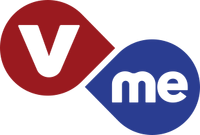 V-me was launched on March 5th, 2007, as a Spanish-language public broadcaster which was in association with public television stations created for the Hispanic-market. This was the introduced logo that debuted on the mentioned date, and was in use until 2017. This still can be seen on the official website.
The logo for V-me was created by CA-Square.