Mammoth
1972-1974

Van Halen was formed in 1972, the original name was Genesis, however an existing band was already using the name. The name of the band was then known as Mammoth.
Van Halen
1972–1978?

In 1974, the name was changed to Van Halen as suggested by the first lead singer David Lee Roth as he felt that it was a name that held long term artistic, identity and marketing advantages.
Van Halen's original logo was hand-drawn by original bassist Mark Stone. This logo was still seen on one of Alex Van Halen's shirts throughout the David Lee Roth era.
1978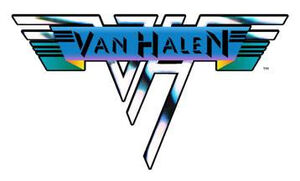 The origina wing logo designed by Dave Bhang for the debut album
1979–1986, 2012–2020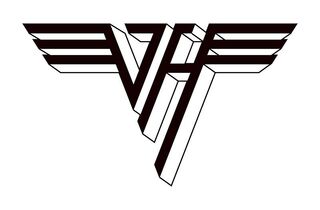 Dave Bhang's refined, dimensional version of the wing logo for the 1979 Van Halen II album cover. It remerged in 2012, for the A Different Kind of Truth album.
1986–1998
First used when Sammy Hagar became the new lead singer in the band. It was first used on 5150 (1986). This logo is no longer in use for modern merchandising.
See Also