This page only shows primary logo variants.
For other related logos and images, see:
Contents

1961–1966
1966–1970
1970–present
Venevisión (Spanish pronunciation: beneβiˈsjon) and formerly known until 2007 as VENEVISION)) is a Venezuelan free-to-air television channel and one of Venezuela's largest television networks, owned by Gustavo Cisneros. The network has a presence in the USA as being one of their most popular markets to distribute their international channels.
1961–1966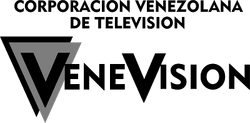 Venevisión was founded on February 27, 1961 after replacing Televisión Independiente, S.A. However, in March 1961, Venevisión's television channel was introduced.
1966–1970
In 1966, the word "Corporación Venezolana de Televisión" was dropped from the logo. This is the only Venevisión logo to not use its "V" design until 2007.
1970–present
In 1970, Venevisión introduced its now iconic "V and crest" logo, with the same as the 1961 logo, an initial letter over the laurels. This was the iconic logo for the then-emerging network as it expanded through a icon in Venezuelan history.
External links