Oath
2017–2019

AOL bought Yahoo! in summer 2017. The new company is called Oath (stylized as Oath:). The rebrand will affect the branding of all Yahoo! and AOL's services. The basis of the new name is around the company's commitment to provide a range of diverse services without being a content aggregate.
Verizon Media
2019

On January 8, 2019, Verizon rebranded Oath as Verizon Media, initially using Verizon's 2015 logo and left the checkmark for their social media's avatar.
2019–present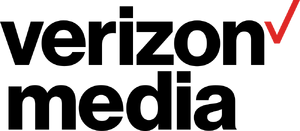 On April 30, 2019, Verizon added the word Media under the logo.
Yahoo!
TBD (tentative)

On May 3, 2021, Verizon announced that they were selling Verizon Media to Apollo for five billion dollars, with Verizon still owning 10% of the company. The combined company will be called Yahoo!.[1]
References
External links