Vijay Karnataka is the leading Kannada-language daily newspaper in southern India. Launched in 1999, it and its English-language sister publication Vijay Times were acquired by The Times Group in 2006. The latter was rebranded to Bangalore Mirror the following year.
Its competitors include Kannada Prabha, Prajavani and Vijayavani.
1999–200?

200?–2014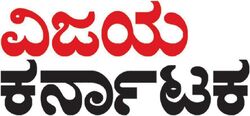 2014–present

A new logo was introduced on 9 July 2014 that is based on the logo of Navbharat Times, the Hindi newspaper of The Times Group. The logo has the letters VK in red squares above the name, in the same manner that the Navbharat Times logo has the letters NBT.