"WAWB-TV"
1998–2002
WAWB-TV launched as a cable-only channel affiliated with The WB via The WB 100+. In 2002, it was made available over the air via WZDX's new digital subchannel. However, WAWB-TV continued to use its fictional callsign.
2003–2006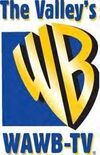 WAMY-TV
2006–present

When The WB shut down to merge with UPN to create The CW, WAWB-TV became a MyNetworkTV affiliate on September 5, 2006 and changed its fictional callsign to WAMY-TV.
TV stations in Northern Alabama, including Huntsville, Decatur and Florence
8
54.2

WAMY-TV(Cable)
WZDX-DT2

|
---
Defunct station:
Community content is available under
CC-BY-SA
unless otherwise noted.