1971–1973
| | |
| --- | --- |
| | LOGO MISSING |
1973–1983
1983–1995

First incarnation of TV20 branding, used throughout the 1980s.
1995–2000

This modified version of the "TV20" branding was introduced in the 1990s.
2000–2009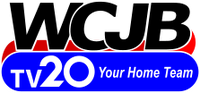 The slogan during this era was "Your Home Team". Final incarnation of TV20 branding.
2009-2017
2009–2013

The TV20 branding used since 1983 was dropped, but the ABC logo did return.
2013–2017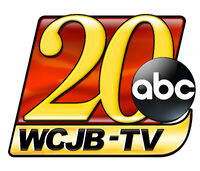 2017–present
The -TV suffix was dropped from the logo in 2017. That same year, Diversified Communications sold WCJB and WABI-TV in Bangor, ME to Gray Television.
The logo resembles of that of sister stations WRDW-TV and WAGT/WAGT-CD in Augusta, GA.
External links
TV stations in Gainesville

Defunct stations: