Not to be confused with KCNC-TV.
WCTU-TV
1967–1971
| | |
| --- | --- |
| | LOGO MISSING |
North Carolina's first independent station, WCTU, was signed on July 9, 1967.
WRET-TV
In 1971, Ted Turner's Turner Broadcasting System purchased WCTU and renamed it WRET which stood for his full name: Robert Edward Turner. 
1971–1976

1976–1980

On July 1, 1978, WRET-TV joined NBC when former affiliate WSOC-TV switched to ABC. Turner had committed into investing $2.5 million for station improvements.
WPCQ-TV
1980–1981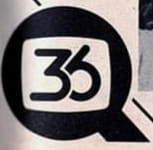 In early 1980, Westinghouse Broadcasting acquired WRET for $20 million — then the largest station sale at that time — so that Ted Turner could finance CNN, and changed its call letters on October 13 of that year to WPCQ standing for "People, the Carolinas, the Queen City". The station rebranded as Q36 to coincide with the callsign change.
1981–1985

From 1981 to 1985, WPCQ used the distinctive Group W typeface.
1986–1988
Westinghouse sold WPCQ to Renaissance Broadcasting in 1986 and the Group W font was subsequently dropped in favor of this Serpentine-based logo.
1988–1989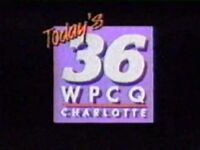 In its last year under the WPCQ callsign, channel 36 became known as "Today's 36".
WCNC-TV
1989–1996
The Providence Journal Company acquired WPCQ in 1988. On September 3, 1989; WCNC adopted its current call letters.
1996–1998
WCNC was renamed "NBC 6" in 1996, referencing its cable placement. 1997 saw Belo acquire The Providence Journal Company, and therefore WCNC.
1998–2006

2006–2008
WCNC dropped its cable placement in 2006.
2008–2012
In 2008, WCNC began using its over-the-air channel number again, with "NewsChannel 36" being the new brand.
2012–2014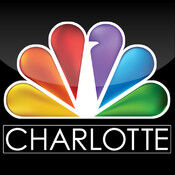 In 2012, the station changed its name to "NBC Charlotte", dropping the "36" again.
2014–2020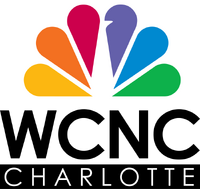 WCNC joined Gannett in 2013 with that company's acquisition of Belo. WCNC revealed a new logo on July 31, 2014, as well as adopting Gannett's corporate graphics. The station reverted back to its call letters, but they are used alongside the name "NBC Charlotte".
2020-present

This logo is similar to that of NBC-owned New England Cable News (NECN).
External links