1966–1976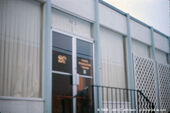 1976–1981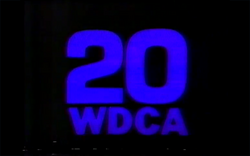 1981–1987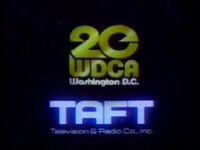 Taft Broadcasting sold its independent and Fox-affiliated stations (including WDCA) to the TVX Broadcast Group in February 1987.
1987–1993

Paramount Pictures purchased a stake in TVX in two phases from 1989 to 1991, which would later become the Paramount Stations Group.
1993–1995
This station's branding is known as "Paramount 20", with the logo design shared with then-sister stations KTXA in Fort Worth-Dallas and KTXH in Houston, both in Texas.
1995–2001
In 2001, Fox Television Stations, traded KBHK (now KBCW) to Viacom in San Francisco-Oakland-San Jose for KTXH in Houston and WDCA in Washington, D.C., thus WDCA became sister stations with Fox O&O WTTG after the buyout of BHC Communications.
2001–2002

2002–2006
2002–January 2006
| | |
| --- | --- |
| | SVG NEEDED |
January–May 2006
| | |
| --- | --- |
| | SVG NEEDED |
Following the announcement of the shut down of UPN (whose programming would be merged with The WB to form The CW), all Fox-owned UPN stations, including WDCA, dropped the UPN name and logo from their on-air branding. WDCA replaced the UPN logo with "DCA", and rebranded the station as "DCA 20", a throwback to the old "DC 20" branding WDCA carried back when it was still an independent station.
May–June 2006
| | |
| --- | --- |
| | SVG NEEDED |
With the pending launch of a new Fox-owned network known as MyNetworkTV, WDCA  dropped the "DCA" letters and replaced it with the "my" lettering, which would be used in the current logo.
June 2006–2017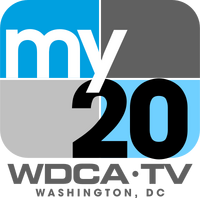 2017–present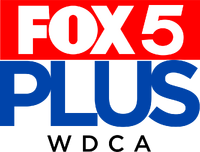 On July 17, 2017, WDCA was rebranded from "My20" to "Fox 5 Plus", in addition, the station also debuted an 8:00pm newscast produced by WTTG. This rebrand was later carried out by the MyTV-affiliated station in Orlando, Florida, WRBW.
TV stations in the Greater Washington, D.C. area
---
Defunct station: