WFBT (-TV)
1982–1984
KITN-TV
1984–1994
1984–1988
1988–1990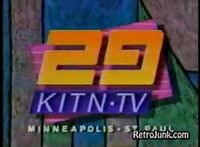 KITN picked up the Fox affiliation in 1988 after KMSP-TV dropped it due to its initial weak programming and ratings that were affecting its otherwise successful lineup.
1990–1994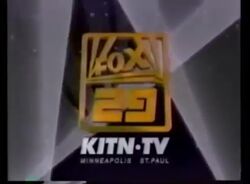 WFTC
1994–1995
1995–2002

During this logo's run WFTC would be purchased by Fox Television Stations in 2001. This made WFTC a Fox O&O but in 2002, Fox programming would move to KMSP-TV due to KMSP having a stronger signal than WFTC.
2002–2006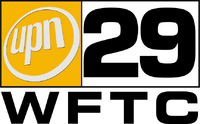 WFTC became the UPN affiliate on September 8, 2002, when Fox affiliation went back to former affiliate KMSP-TV.
2006

Following the announcement of the shutdown of UPN (whose programming would be merged with The WB to form The CW), all Fox-owned UPN stations, including WFTC, dropped the UPN name and logo from their on-air branding. WFTC changed its branding to "WFTC 29", and adopted an altered version of 2002-06 UPN era logo.
2006–2017
2017–present

In August 2017, Fox Television Stations re-branded WFTC as Fox 9+ matching the branding of sister station KMSP-TV.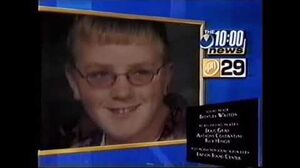 TV stations in Minneapolis-St. Paul including Bemidji, Alexandria, Appleton and Brainerd
---
Defunct stations: