WNNJ
1948–1949
| | |
| --- | --- |
| | LOGO MISSING |
WPAT-FM
1949–1957
| | |
| --- | --- |
| | LOGO MISSING |
WTFM
1958–1969
| | |
| --- | --- |
| | LOGO MISSING |
1969–1971
1971–1973

1973-1975
197?–1978
| | |
| --- | --- |
| | LOGO MISSING |
1978–1980
| | |
| --- | --- |
| | LOGO MISSING |
1980–1982
WAPP
1982–1986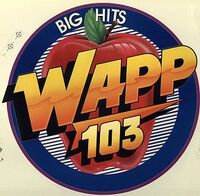 WQHT
1986–1988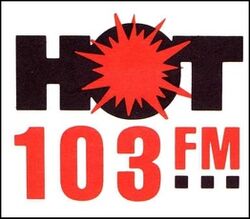 In 1986, Emmis Broadcasting bought WAPP from Doubleday. On August 13, 1986, WAPP began stunting with a classic rock format as "Classic 103." On August 15, 1986, at 6:00 PM, The Rolling Stones' "It's All Over Now" and a bomb noise rang out, marking the end of WAPP. The station then flipped to a CHR/Dance format as "Hot 103" with new call letters WQHT. The first song on "Hot" was "R.S.V.P." by Five Star. At the time it broadcast what it announced as From the Top of the World Trade Center (similar as their former WTC Building before it was destroyed on 9/11/2001) until it was moved the dial number is 97.1 on October 1988.
WYNY
1988–199?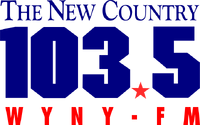 On September 22, 1988, at 5:30 PM, WQHT would change frequencies, as Emmis acquired NBC's radio stations. Since Federal Communications Commission regulations at the time required that a company could only own one FM radio station in a market, Emmis sold the 103.5 frequency to Westwood One (which, coincidentally, had also acquired the remnants of the NBC Radio Network).
199?–1996
WKTU
1996–present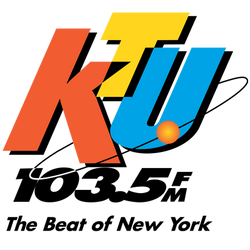 On February 9, 1996 at 6:00 PM, WYNY began stunting with a heartbeat, promoting the launch of a new format coming the following day at Noon. At that time, WKTU was relaunched on 103.5 FM with a dance-based CHR (Rhythmic/Dance) format, WKTU's first song was "Gonna Make You Sweat" by C&C Music Factory.
FM Radio stations in New York City
| | | | |
| --- | --- | --- | --- |
| 93.1 | | Tropical/Spanish AC | | |
| | | | |
| --- | --- | --- | --- |
| 103.5 | WKTU | Rhythmic CHR/Hot AC | | |
FM Radio stations in Albany, Schenectady, and Troy
FM Radio stations in Hartford-New Britain-Middletown
FM Radio stations in Middlesex, Somerset, and Union Counties
FM Radio stations in Long Island
| | | | |
| --- | --- | --- | --- |
| 89.9 | | News/Talk/Classical | | |
| | | | |
| --- | --- | --- | --- |
| 91.1 | WSHU-FM | News/Talk/Classical | | |
FM Radio stations in Philadelphia
| | | | |
| --- | --- | --- | --- |
| 88.5 | | Adult Album Alternative | | |
| | | | |
| --- | --- | --- | --- |
| 101.5 | | News/Talk/Classic Rock | | |
FM Radio stations in Trenton
| | | | |
| --- | --- | --- | --- |
| 101.5 | | News/Talk/Classic rock | | |
FM Radio stations in Atlantic City
| | | | |
| --- | --- | --- | --- |
| 94.3 | WIBG-FM | Classic Hits | | |
| | | | |
| --- | --- | --- | --- |
| 98.3 | WTKU-FM | Classic Hits | | |
| | | | |
| --- | --- | --- | --- |
| 106.3 | WJSE | Alternative Rock | | |
FM Radio stations in the Hudson Valley, including Westchester, Rockland, Putnam and Orange Counties
| | | | |
| --- | --- | --- | --- |
| 92.7 | WRRV | Alternative Rock | | |