(12 intermediate revisions by one other user not shown)
Line 1:
Line 1:
−

== 1990–199? ==

+

== ==

 
+

=== 1990–199? ===

 

{{Missing former logo}}

 

{{Missing former logo}}

 
 
−

== 199?–2008 ==

+

== 199?–2008 ==

 

[[File:WJJA_2001.jpg|center|200px]]

 

[[File:WJJA_2001.jpg|center|200px]]

 
 
−

== 2008– ==

+

== ==

 
+
 
+

=== 2008–2012 ===

 

[[File:WBME_2008.png|center|200px]]

 

[[File:WBME_2008.png|center|200px]]

 
+

==WMLW-TV==

 
+
 
+

=== 2012–2014 ===

 
+

[[File:Wmlw.png|center|200px]]

 
+
 
+

On August 7, 2012, WMLW and WBME swapped dial positions. WMLW's callsign (whose "-CA" suffix was changed to a "-TV" suffix with the swap) and programming moved from low-power channel 41 to full-power channel 49, while the WBME calls and Me-TV programming moved to low-power channel 41 as WBME-CA.

 
+

=== 2014–present ===

 
+

[[File:WMLW_2014.png|center|200px]]

 
+
 
+
 
 
 

{{TV stations in Milwaukee}}

 

{{TV stations in Milwaukee}}

⚫
 
 

[[Category:Television stations in the United States]]

 

[[Category:Television stations in the United States]]

−

[[Category:Weigel Broadcasting]]

+

[[Category: ]]

 
+

[[Category:Racine, Wisconsin]]

 

[[Category:Milwaukee]]

 

[[Category:Milwaukee]]

 
+

[[Category:Wisconsin]]

 
⚫
 
+

[[Category:Television stations broadcasting on channel 49]]

 
+

[[Category:Television channels and stations established in 1990]]

 
+

[[Category:Heroes & Icons affiliates]]
---
Latest revision as of 18:08, 7 August 2019
WJJA
1990–199?
This article or section lacks a former logo at the moment.
You can help Logopedia by uploading it here.
199?–2008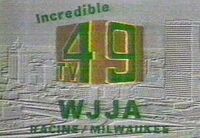 WBME-TV
2008–2012
WMLW-TV
2012–2014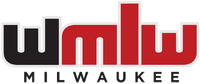 On August 7, 2012, WMLW and WBME swapped dial positions. WMLW's callsign (whose "-CA" suffix was changed to a "-TV" suffix with the swap) and programming moved from low-power channel 41 to full-power channel 49, while the WBME calls and Me-TV programming moved to low-power channel 41 as WBME-CA.
2014–present
TV stations in Milwaukee
---
Defunct station:

Community content is available under
CC-BY-SA
unless otherwise noted.