1954–1969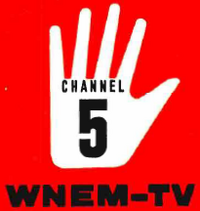 The station originally signed on as a primary NBC affiliate with a secondary affiliation with ABC, but became a sole NBC affiliate after WJRT-TV signed on in 1958 and took the ABC affiliation.
1969–1971
1971–2004

1971–1980
The stylized "tv5" portion of this logo was also used for the logos of four sister stations that were also on analog VHF channel 5: WTVH in Syracuse, New York; KPHO-TV in Phoenix, Arizona; KVVU-TV in Henderson-Las Vegas, Nevada; and KCMO-TV (now KCTV) in Kansas City, Missouri. WNEM-TV continued using the "5" portion of this logo until 2004 (see below), long after each of those other stations had discontinued using the stylized "tv5" logo (WTVH doing so after being sold by Meredith in 1993 for example).
1980–1996

In 1986, the classic "5" logo was incorporated into a new "Triangle 5" logo, with the triangle, which represented the market's three largest cities-Bay City, Saginaw, and Flint-usually appearing in green. Variants with an orange-green gradient triangle and with a gray triangle also were known to exist, as seen below.
On January 16, 1995, WNEM became a dual CBS/UPN affiliate after having been an affiliate of NBC since the station's sign-on, as part of a larger deal between Meredith and CBS that also saw KPHO affiliate with that network. The station remained a UPN affiliate until September 2006.
1996–2004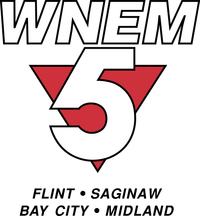 In 1996, the triangle in the "Triangle 5" was recolored red which then became the sole color of the triangle up until it was retired.
2004–present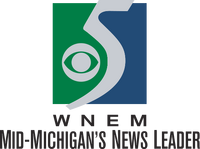 In mid-2004, WNEM retired the "Triangle 5" logo and with it the classic "5" that had been used since 1971 and introduced a new "boxed 5" that incorporated the CBS Eye logo. The "5" and color scheme from this logo were then adapted into the logo of newly-acquired AM radio sister WNEM (since sold off, now WJMK).
External links
TV stations in the Mid-Michigan region, including Flint, Saginaw, Bay City and Midland
---
Defunct stations