WWSG-TV
1981–1985
WGBS-TV
1985–1994

1994–January 1995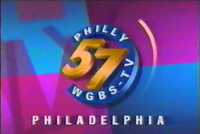 1995
January–December 1995
In January 1995, WGBS became an affiliate of the upstart United Paramount Network; the station briefly identified as "UPN Philly 57", before being shortened to simply "UPN 57".
WPSG
December 1995–2001
In December 1995, WGBS changed its callsign to WPSG (for its then-new owners Paramount Stations Group, which sold WTXF-TV to Fox Television Stations after they purchased the station from Grant Broadcasting System a year earlier). During this logo's run Paramount's parent company, Viacom purchased CBS Corporation in 2000. This made WPSG a sister station to CBS O&O, KYW-TV.
2001–2002

2002–2003
In September 2002, when the UPN network debuted a new on-air look, WPSG's on-air branding was changed to simply "UPN" for the 2002-2003 television season, before reverting back to "UPN 57" the following season.
2003–2006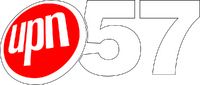 This logo is similarly designed to some its sister stations, including then-sister station KAUT-TV where the UPN logo is placed over the channel position.
2006–present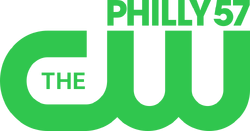 In September 2006, WPSG revived the "Philly 57" moniker dropped in 1990 (though many viewers still called the station by that name afterward) as part of the station's new branding as a CW owned-and-operated station, "The CW Philly 57", although on-air promotions refer to the station only as "The CW Philly."
TV stations in the Delaware Valley, including Philadelphia, Northern Delaware, South Jersey and the Lehigh Valley
---
Defunct stations