This page only shows primary logo variants.
For other related logos and images, see:
WIBF-TV
1965–1969
| | |
| --- | --- |
| | LOGO MISSING |
WTAF-TV
These logos were used when the station was originally owned by Taft Broadcasting.
1969–1974

1974–1979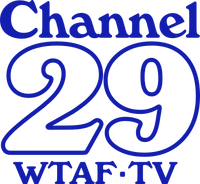 The typeface used in this logo is Windsor.
1979–1988

This "29" logo was used through 1995, surviving a callsign modification, a switch to becoming a network affiliate, and two changes in ownership, being only abandoned after being acquired by Fox.
1979–1984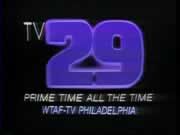 1984–1988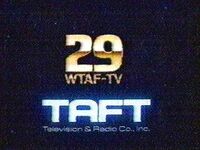 WTXF-TV
1988–1995
1988–1990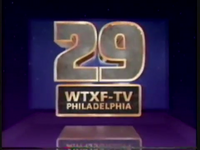 In February 1987, Taft Broadcasting sold its independent and Fox-affiliated stations (including WTAF-TV) to the TVX Broadcast Group, which changed the callsign to the current WTXF-TV on June 1, 1988. Paramount Pictures purchased a stake in TVX in two phases from 1989 to 1991, which would later become the Paramount Stations Group.
1990–1992
1992–1995
Paramount/Viacom would sell the station to Fox Television Stations in 1995 making WTXF-TV a Fox O&O. This was because two years prior Fox wanted to purchase rival station WGBS. (channel 57, now WPSG) WGBS' owners the original Viacom would purchase Paramount Pictures in 1994 but Fox's deal for WGBS fell through that same year, this led to WGBS being fully purchased by Paramount/Viacom and WTXF-TV being sold to the network itself.
1995–2003
2003–2007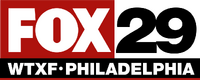 On April 27, 2003, WTXF-TV reverted back to "Fox 29" branding for the first time in nearly a decade.
2007-present
2007–2020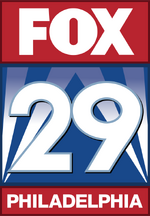 2020-present
External links
TV stations in the Delaware Valley, including Philadelphia, Northern Delaware, South Jersey and the Lehigh Valley
---
Defunct stations