This page only shows primary logo variants.
For other related logos and images, see:
1953–1959

1959–196?

On November 13, 1959, WVEC moved from channel 15 (a UHF channel; at the time televisions weren't required to carry UHF tuners) to channel 13 (a VHF frequency). Also, WVEC swapped affiliation with WAVY-TV to ABC.
196?–196?

196?–197?

197?–1981
1981–1992

A logo design similar to WVEC's logo was used at other Corinthian Broadcasting-owned stations, including KXTV, KHOU and WANE-TV. The Corinthian station group was sold to the A.H. Belo Corporation in 1984. This logo was used for the first "Spirit of Hampton Roads" image campaign.
1992–1996
In September 1992, WVEC revamped their "Spirit of Hampton Roads" image campaign with a new logo/graphics package and theme.
1996–2009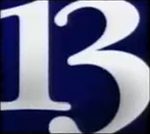 WVEC dropped the "Spirit of Hampton Roads" image campaign in October 1996 with this new logo. The new image kept the blue-and-white "13" square but completely redid the logo's design in Garamond font.
2001–2004

Eventually, WVEC changed the blue-and-white colors to blue-and-gold, while also putting the words "WVEC" in a new font.
2004–2009

Meanwhile, on New Year's Eve 2003, WVEC temporarily reintroduced the "Spirit of Hampton Roads" image campaign with this logo, until 2008, after WVEC ditched Convergence by Stephen Arnold Music with Propulsion by 615 Music, which was also used by its sister station WFAA.
2009–2018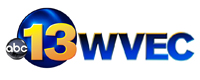 WVEC phased in the "Your Local News Leader" image in 2009 with this new "circle 13."
2018–present
TV stations in Hampton Roads (Hampton/Norfolk/Chesapeake/Virginia Beach/Portsmouth/Newport News)
---
Defunct stations:

Community content is available under
CC-BY-SA
unless otherwise noted.