WWF Monday Night Raw
1993–1997
WWF Raw is War
1997–2001
At the time of the "Monday Night Wars" with WCW Monday Nitro, Monday Night Raw became "Raw is War". 
WWF/WWE Raw
2001–2002
Following the sale of WCW and 9/11, WWE dropped the "is War" part of the Raw show, making it just "Raw" again. The second hour was renamed the "Raw Zone", as well, to coincide with the dropping of the "War" line. This was dropped because it was the end of the Monday Night Wars and the competition between WCW and WWF was over.
2002–2006
When the roster was split as part of the "brand extension", Raw got a makeover, with a new logo, set, and theme song.
2006–2009
Shortly after the move back to USA Network, Raw got a graphics and sound makeover.
2009–2012
2011–2012
2012–2016
2012–2016 (primary)
This logo was introduced to coincide with Raw's 1000th episode on July 23, 2012.
2012–2014 (secondary)
2014–2016
Same as the last logo, but the then-current logo is replaced with the 2014 one, perhaps the WWE Logo is now at the left of Raw.
2016–present
2016–2018
Twitter
page. Raw and
SmackDown Live
received new logos to coincide with the 2016
Brand Extension Draft
.
2018–present
On the January 29, 2018 edition of Monday Night Raw, the night after the 2018 Royal Rumble, WWE introduced a refreshed, and more minimal look to the current logo, as well as updating the stage graphics, and on-screen graphics to match.
Special Logos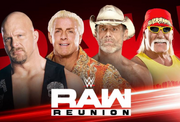 Raw Reunion logo with picture of returning WWE Legends.
Community content is available under
CC-BY-SA
unless otherwise noted.