Monster Munch is a baked corn crisps./chips range by Walkers, formerly Smiths. The range was originally known as 'The Prime Monster' when it launched in 1977 but was renamed to its current name in 1978.
The Prime Monster
1977-1978
| | |
| --- | --- |
| | LOGO MISSING |
Monster Munch
1978-1995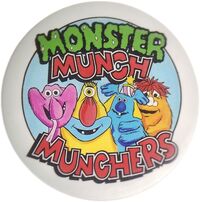 When Smiths launched the range in 1977 there were four flavours; Roast Beef, Smokey Bacon, Pickled Onion and Prawn Cocktail. Each had a corresponding monster. There was originally two shapes of crisps/chips, the well known 'paw' shape which is still used and one representing one of the monsters. Various other flavours/flavors were used during this period; Saucy Tomato, Cheese & Onion and Salt & Vinegar.
1995-1998

In 1995, the Monster Munch brand was taken over by Walkers.
1998-2006
2006-2008
Coinciding with the launch of the new Walkers logo, the packaging design of all the crisp/chip ranges (including Monster Munch) were changed. The packaging of Monster Munch was unusual in that some of the packaging had a horizontal design rather than the traditional vertical. Other than the packaging, nothing else about Monster Munch changed during this period, including the monsters.
2008-2019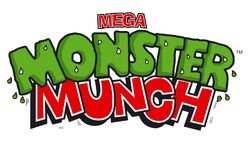 In 2008, the Monster Munch range was completely revamped. The redesign was inspired by the original 1977 design, so much so that the packaging is almost exactly the same as it was previously. The size of the crisps/chips has become the same size as they were originally in 1977. The original monsters, except the orange monster which formerly represented Prawn Cocktail, also made a return. The flavours/flavors, however, remained largely the same as the previous incarnation; Roast Beef, Pickled Onion and Flamin' Hot. Note the slight change to the original logo, it has the word 'Mega' above it to indicate the larger size of the crisps/chips compared to the range launched in 1998.
2019-present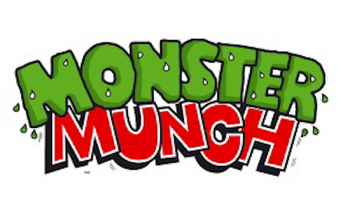 In 2019, the packaging was updated now featuring the Walkers logo at the top and 'Mega' was removed.