1983-1991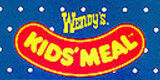 | | |
| --- | --- |
| | A better version of this logo is needed, due to the picture quality, inaccuracies or other issues with the uploaded logo. You can help Logopedia by uploading it here. |
1991–2010
This logo was used during the 1990s and it featured the words "Kids' Meal" in a wild font in different colors as well. Starting with this logo, the cardboard boxes with handles from the previous logo have been replaced with paper-wax bags similar to carry-out bags, but with layouts corresponding to the promotion of the toys.
2010-2013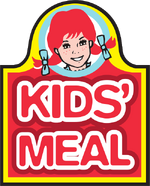 In 2010, the logo was updated to resemble Wendy's brand logo. The word "Wendy's" was removed and the caricature of Wendy from the main logo of the fast food chain appears in place of the name. Like the previous logo, it still uses paper-wax bags. Although based from the longest-running logo used since 1983, it is the shortest-lived Kids' Meal logo to date. The last toy line to use this logo was I Spy. However, it is still in use in some countries.
2013-2015
A new logo for Wendy's Kids' Meal, based from the new brand logo first appeared on October 11, 2013. It still has the same font for Kids' Meal, but removed the framing and now has Wendy on the left side. The logo appeared on the Kids' Meal packages, starting with the Cranium Brain Breaks toys.
2015-present
This logo was introduced when Wendy's ceased kids meal licensing in 2015. It now has a red-outlined Wendy with a new font for the text "kids' meal". Also, the apostrophe is a kite.
Community content is available under
CC-BY-SA
unless otherwise noted.