The XFL was created by WWE CEO Vince McMahon in order to compete with the NFL, with funding from NBC and the former WWF. It became defunct in 2001, and was revived in 2018.
2000–2001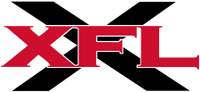 This logo only lasted for one season in 2001.
2018–present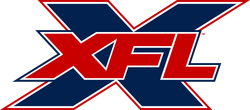 The XFL was revived in 2018, with its 2020 inaugural season only lasting five games due to the COVID-19 pandemic and folded via Chapter 11 bankruptcy. On August 2, 2020, actor and producer Dwayne Johnson and longtime business partner Dany Garcia led a consortium with Gerry Cardinale's RedBird Capital to purchase the XFL for $15 million, hours before an auction could take place.