2010–present

Still seen on some game app icons on Windows Phone that not (or not yet) switched or updated.
2012–2015
Since November 2012, this banner was used for new Windows games supporting Xbox.
Examples
2015–present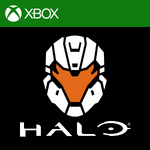 This version has a darker green to it. Microsoft is also trying to push devs to put the font in the middle.