Yes, stylised in lowercase as yes, is the only satellite pay-TV operator in Israel. It is owned by the Israeli telecommunications company Bezeq, which also runs the IPTV service Sting TV. It also owns the production and distribution company yes Studios.
2000–2004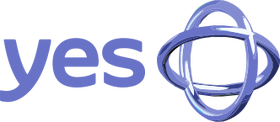 2004–2017
2004–2009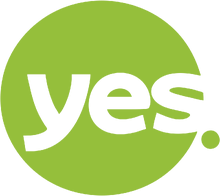 2009–2017
2017–present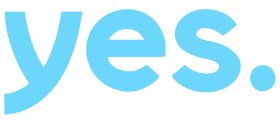 Yes rebranded on 1 November 2017, on the same day that Channel 2 split into Keshet 12 and Reshet 13. The rebrand was commissioned by the Tel Aviv-based branding agency Firma, which was also responsible for the branding of Yes's sister IPTV service Sting TV and the new Israeli public broadcaster Kan. The circle was removed and the wordmark was tweaked, although an arc remains as a graphic element.
External links
Mobile networks: Pelephone (Hii Mobile)
---
Satellite television: Yes | IPTV: Sting TV
Video-on-demand: yes+
yes.
Part of Bezeq
---
Television channels:
Movies and series: yes1 (HD) | yes2 (HD) | yes3 (HD) | yes4 (HD) | yes5 (HD) | yes Israeli Cinema (HD) | yes Docu (HD) | yes Comedy (HD) | yes Drama (HD) | yes Action (HD) | yes Edge (HD) | yes Bollywood | yes Base | yes Oh | yes Plus | yes Stars HD
Sports: Charlton (Sport 1, 2, 3 and 4 HD) | Arutz HaSport (5SPORT, 5PLUS, 5GOLD, 5LIVE, 5STARS and 5SPORT 4K) | ONE HD and ONE 4K
Kids and teens: BabyTV | Arutz Hop! | Arutz HaKokhavim | KIDZ | Zoom | WIZ
---
Video-on-demand service: yes+
Production company: yes Studios
---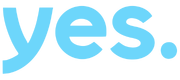 ---
Divested properties:
Internet portal: Walla!
---

yes.
Part of Bezeq
---
Television channels:
Movies and series: yes1 (HD) | yes2 (HD) | yes3 (HD) | yes4 (HD) | yes5 (HD) | yes Israeli Cinema (HD) | yes Docu (HD) | yes Comedy (HD) | yes Drama (HD) | yes Action (HD) | yes Edge (HD) | yes Bollywood | yes Base | yes Oh | yes Plus | yes Stars HD
Sports: Charlton (Sport 1, 2, 3 and 4 HD) | Arutz HaSport (5SPORT, 5PLUS, 5GOLD, 5LIVE, 5STARS and 5SPORT 4K) | ONE HD and ONE 4K
Kids and teens: BabyTV | Arutz Hop! | Arutz HaKokhavim | KIDZ | Zoom | WIZ
---
Video-on-demand service: yes+
Production company: yes Studios
---