Tricon Global Restaurants
1997–2002

Tricon Global Restaurants was created in 1997 when PepsiCo spun off their restaurant business into a separate company. The name was a combination of the words "three" and "icon", as three restaurant chains that made up the company (KFC, Pizza Hut and Taco Bell) were considered icons. Note the speech bubble reading "Yum!".
Yum! Brands
2002
With the acquisition of Long John Silver's and A&W Restaurants in 2002, the company changed its name to Yum! Brands, Inc. YUM had long been the company's ticker symbol on the New York Stock Exchange. The speech bubble reading "Yum!" from the old Tricon logo was chosen as the new company logo.
2002–present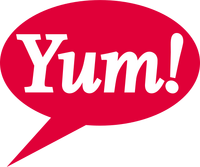 The font was altered slightly months later.